Dustin and Shelly Van Cleave spent almost 14 years planning, researching and developing their vision for an angus seedstock operation that is today a successful operation known as the VC3 Angus Ranch. After selling a family business, the couple embarked upon their dream to start the VC3 Angus Ranch in 2017. They had a rock-solid business plan in hand and felt good about securing a ranch loan.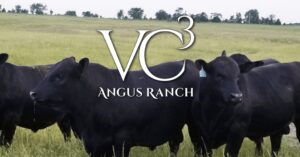 "We had worked on a business plan for years and felt like that was top notch," said Dustin. With such a strong business plan, the couple was certain that findind a ranch loan would come easily. "We really thought it was just going to be simple, but that was just naïve, I guess."
Working with their local banker, they had planned to pursue financing through the Farm Service Agency (FSA). "We knew we were going to use the FSA in conjunction with the bank on some guaranteed top loans," Dustin related. "We approached the FSA and we were really shocked to find out they don't speak the same language as a bank! The requirements for all the boxes that you have to check for each of them are so different. It was really overwhelming." While the bank was encouraging about the credit-worthiness of their business plan, their banker suggested that if they planned to involve the FSA, they should speak to a loan packager. "I just could not imagine why we needed to do that because the bank could see it was a deal, our credit was great, we had plenty of money, and we had what we considered a very solid and safe business plan," said Dustin.
Dustin and Shelly were introduced to the team at Financial Services Inc. (FCI), a team of experts with combined industry experience of over 40 years. FCI specializes in helping business owners, farmers, and ranchers access financing to help them succeed. The couple met with Charlie Loomis, who was able to help the Van Cleaves position their operation properly to successfully navigate the FSA loan process.
A barrier to the loan process was getting the FSA to understand the VC3 Angus Ranch operation. "It's a registered seed stock operation, and the FSA doesn't really keep good data on that," observed Dustin. "They want to know what a calf is going to bring when it's weened, when it runs through the sale barn. And that's not the business we're in. But that's the kind of data they understood. Our operation is a lot different. We carry our bulls out to 18 months and sell them as semen-tested breeding stock, top bulls and same thing with our heifers, we breed them back. But, that's not data that the FSA really looks at. We were using language with them that didn't fit their criteria and check their boxes." Working together, FCI, the Van Cleaves and their bank were able to clear away the misunderstanding about how the VC3 Angus Ranch operates, and package a loan application that the FSA approved. "I just don't know how we'd ever would have gotten any of this done without Charlie's help," Dustin concluded. "In fact, I know that we couldn't. I assume everybody that's done what we've done has had to have someone exactly like Charlie to help get it done."
FCI's business is to help farmers, ranchers, and business owners get access to financing and find ways to increase liquidity and cash flow through smart financing and strategic relationships. To see how the FCI team can help you, contact us using the form, or simply call: (918) 762-2271.