Brian Rogers farms near Aline, Oklahoma, where he also provides mechanic services and runs a custom hay business to supplement his farm income. He went through a period of financial difficulty and needed some help to get through it. "With commodity prices the way they are, it's a little tough on us little guys," said Rogers. "Everywhere we can save money, it makes a big difference." At the suggestion of his bank, Rogers met with Charlie Loomis of Financial Consulting, Inc. (FCI). The two met to assess Rogers' situation, and together they came up with a plan.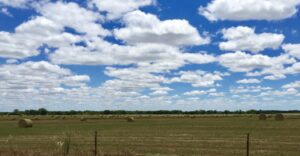 The FCI team has a combined industry experience of over 40 years, and Loomis himself has been helping farmers and agri-business owners since 1999. From this base of experience, Loomis determined that refinancing existing debt could substantially improve Rogers' position. "Charlie said that we could go through with FSA loans and get my interest rate down," said Rogers. "We did that, and that move saved me over $30,000 a year just on interest. I would never have gotten the loan without Charlie knowing the ins and outs of the FSA loans. Pretty much everything he's done for me has been a very, very smart financial move."
Rogers continues to work with Loomis and the FCI team to get advice about financing his operation. "This year, I wanted to build a shop to be able to maintain my equipment," added Rogers. "They were able to help me see how to make that work into my budget and make a little extra money. I'm a mechanic, so it just gave me another place to work and better place to maintain my equipment."
Today, Rogers' business is in a better place, and he gives a lot of credit to the FCI team. "My experience with everybody there is just fantastic, because I probably wouldn't be in business without them," Rogers concluded. "With him getting me the better rates, terms, it's made the difference, like night and day. Charlie has sure helped me a bunch. We've had a very, very good relationship."
FCI routinely assist farmers, ranchers and business owners get access to financing through programs like the USDA Farm Service Agency loan program, and find ways to increase liquidity and cash flow through smart financing and strategic relationships. To see how the FCI team can help you, contact us using the form, or simply call: (918) 762-2271.