Farmland: Where the Wealthy Store Their Money
Higher net worth people know from experience that the key to growing and storing wealth is through leveraging real estate, particularly agricultural real estate. As the saying goes about land, "it's the one thing they're not making more of." Many people with wealth prefer to store it in land, particularly farmland. As the global population continues to increase, so does the value of the land used to grow food for the planet. As the number of mouths to feed rises, farmland becomes even more essential.
The public often assumes that the wealthy keep their money in the stock market, and many do. However, investing in farmland provides several benefits, one of which is diversifying the real asset portions of their portfolios. Farmland gives the investor the ability to realize a gain in two ways: through leasing, farming, or share cropping the property, and through appreciation on the value of the land. When the income and the appreciation are combined, the return farmland delivers can rival many other investment choices.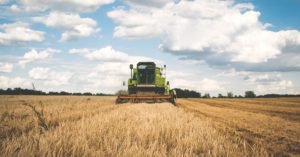 Investments
Unlike some other investments, buying farmland is a long term, illiquid investment. For this reason, farmland investments tend not to suffer the volatility of the stock market. It's a stable investment that has performed well over time. For example, during the past 48 years, farmland in the U.S. has yielded returns of 10% or better. More recently, during the period from 1992 to 2016, farmland yielded an even more impressive 12% return compared to real estate's (NCREIF) 8.7% return, or the Russell Stocks Index 3000 which returned 8.8%*.
The simplicity of the idea of farmland investing doesn't mean it's simple to do. To maximize the creation of value through revenue, appreciation, or tax benefits, it's helpful to have an experienced hand in your corner. The FCI team has helped numerous clients finance and acquire farmland as an investment. Contact us to discuss how you can take advantage of the inverted yield curve and the low long term real estate rates available for the best clients. We can help investors secure long-term, fixed rates for agriculture real estate in the 3%-5% range. Call today so that we can find the option that best fits your needs.
* "The Biggest Investment Opportunity You've Probably Never Heard Of." Nav Athwal, co-founder and CEO at District. December 2018